The year was 1929. Newspaper headlines featured names like Charles Lindbergh, Babe Ruth, Al Capone, and President Herbert Hoover, and the Flapper dress style of the "Roaring Twenties" was still very much in vogue.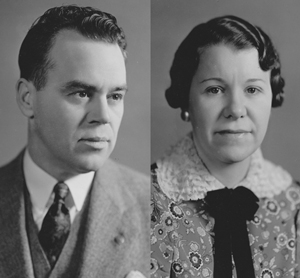 Newton & Lela Branson
Newton Branson, a native of Marion County and a World War I veteran, had been working at McMackin Funeral Home in Salem. He and his wife Lela moved to Flora, opening Branson Funeral Home in the former Fritz Shriver residence on east Third Street. Lela became a licensed funeral director and embalmer and was referred to as a "Lady Attendant"—a proper term for a woman in funeral service during an era when men almost exclusively filled the profession.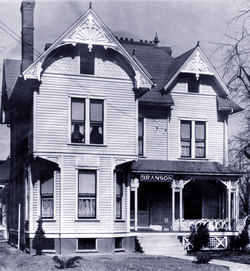 Original 1929-1937 location east of First United Methodist Church (top.) Late 1930's Packard Funeral Coach that allowed side door access (left.) During Flora's Centennial celebration in July 1954, 100-year old resident John McLaughlin is greeted by visiting Illinois Governor William Stratton (right) as Newton Branson (left), John Frank (2nd from left), and Dr. H. D. Fehrenbacher (middle) provide assistance (below.)
Branson Funeral Home's first funeral service was conducted for James S. Phillips of Xenia in July 1929. Only three months later, a devastating stock market crash would send the United States into the greatest economic depression in history which would continue for nearly a decade, however Branson Funeral Home continued to assist families of all backgrounds and financial means, and because of this became a trusted name in the Flora area during those difficult times.
By 1937, Branson began work on a new funeral home facility in Flora at North Main and Fifth Street. Few funeral firms throughout the country at that time had been planned and constructed for the primary purpose of operating a funeral home. Most were operating from personal residences or downtown storefront businesses. Ambulance service was also an important function of the funeral home.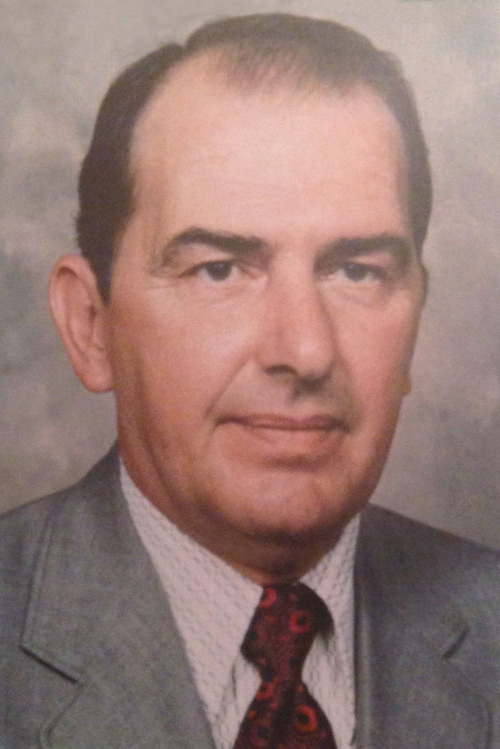 John Frank
Nearing the end of World War II, John Frank, a young man from Missouri, attended mortuary school after serving in the Army and was hired by Branson Funeral Home. John was mentioned in a newspaper feature for the funeral home as Newton Branson's "efficient and worthy assistant." He went on to purchase the business from Newt and Lela Branson in 1967, and the name was eventually changed to John T. Frank Funeral Home. In 1975, John married Mary (Kessler) McCarty, and they continued to serve the community until John's death in 1982.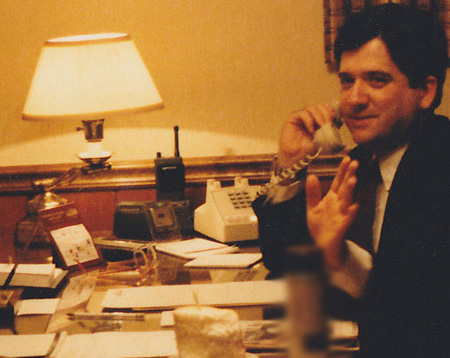 Gary Bright at his desk in the 1980's
On April 1, 1983, Mary Frank welcomed Gary Bright and his wife Barb to Flora. Gary and Barb dedicated themselves to providing innovative care and renovated facilities to families in Flora and surrounding communities for almost 30 years. Gary was elected Clay County Coroner in 1989 and continued to serve in that role until his sudden death in 2011. Although Gary was passionate about helping others through his professional work, he was truly a generous and caring person at heart, and his legacy will live on. Barb Bright continues to be involved in the day-to-day activities of the funeral home.
Today, quite a few things have changed since 1929, but the commitment of a family and staff that cares for others with kindness, personalized service, and honesty has remained the same. Ryan Muskopf, owner of Frank & Bright Funeral Home speaks respectfully of the funeral home's heritage: "We must pay homage to the past in order to understand how to continue writing our history well into the future. For over 80 years, this funeral home has been successful because of the trust earned between the people we serve, and the family within the business."

Gary and Barb Bright with author and grief educator Dr. Alan Wolfelt (center)