Frank & Bright Funeral Home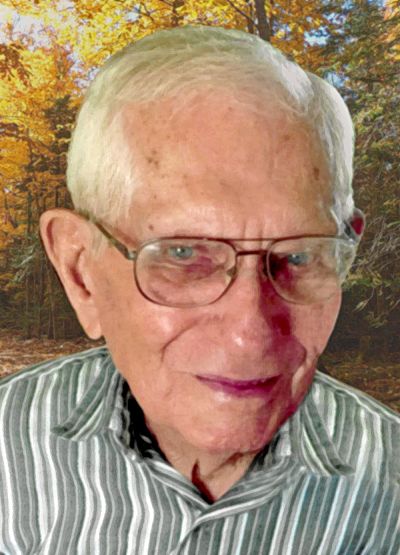 Charles 'Wheezer' Briscoe
Nov 19th, 1925 - Jun 16th, 2019
Charles Eugene "Wheezer" Briscoe, age 93, of Flora, Illinois, passed away Sunday night, June 16, 2019, at Flora Gardens Care Center.
He was born November 19, 1925, in Flora, the son of Charles L. and Brooksy Alice (Davis) Briscoe. He was united in marriage to Shirley L. Armstrong on June 28, 1946, in Flora, and together they shared 69 years of marriage. She passed away March 20, 2016.
Wheezer enlisted in the Marines and served in World War II, participating in the Battle of Iwo Jima and serving as Sergeant of the Guard during the occupation of Nagasaki, Japan. Upon returning home, he launched what would be a lifetime of accomplishment as an entrepreneur, owning and operating a number of businesses including partnerships with his brothers. Before his retirement he and his son Brad operated Briscoe's Surplus Sales. Wheezer had been a charter member of the Flora Academic Foundation, was a past member of the Flora Fire Department, had served on the board of directors for the Clay County Soil & Water District, was a trustee for the World War II Memorial, and was a past director of First National Bank of Flora. He was a longtime member of the First Baptist Church of Flora, and the Flora American Legion Post 14 and Flora VFW Post 3999, and the Wabash Outing Club. He was an avid hunter and fisherman continuing until he was 93.
He is survived by 2 sons: Chuck (Jan) Briscoe of Cincinnati, Ohio, and Brad (Tina) Briscoe of Flora; 7 grandchildren: Jeff (Deb) Hanneken of Tampa, Florida, Allison (Brad) Ernst, Jennifer (Rob) Andres, and Alicia (Justin) Gates, all of Cincinnati, Ohio, Christina Sisk of Flora, Matthew (Lindsey) Briscoe of Memphis, Tennessee, and Sarah (Nick) Brashear of Centralia; 15 great-grandchildren; a sister: Maxine Jones of Flora; and a sister-in-law: Virginia Ernest of Mt. Carmel.
He was preceded in death by his parents; wife: Shirley Briscoe; a daughter: Jane Hanneken; 3 brothers: James "Dode", Robert "Satch", and Rex Briscoe; and a brother-in-law: Cecil Jones.
A funeral service will be at 11 a.m. Saturday, June 22, 2019, at Frank & Bright Funeral Home in Flora. Interment will follow in Elmwood Cemetery with the presentation of military funeral honors. Visitation will be 6-8 p.m. Friday at the funeral home. Memorial donations are suggested to the First Baptist Church of Flora or the local chapter of Disabled American Veterans and will be accepted through the funeral home.