Frank & Bright Funeral Home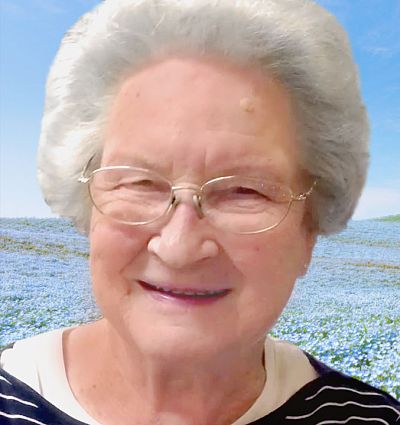 Sue Yates
Dec 10th, 1933 - May 13th, 2022
Velma Lucille "Sue" Yates, age 88, of Flora, Illinois, passed away peacefully Friday morning, May 13, 2022, at HSHS St. Anthony's Memorial Hospital in Effingham.
She was born December 10, 1933, in Braman, Oklahoma, the daughter of Floyd O. and Cora (Lackey) Birkes. She was united in marriage to Ivan D. Yates on May 24, 1951, in Lawrenceville, and together they shared 62 wedding anniversaries until his death January 7, 2014.
She was born the 7th of 9 children, with 4 sisters and 4 brothers. Her dad lovingly nicknamed her Sue when she was just a baby, the name stuck, and that is what most people have always known her by. She worked at Sparton Manufacturing for 27 years and was a member of the Clay County Hospital Auxiliary.
She is survived by a daughter: Lana Forsythe of Decatur; a son: Brad Yates of Flora; grandchildren: Michael Bowen (Rob), T.J. Forsythe, Steven Forsythe (Mithila), Courtney Jackson, Ashley Hughes (David), and Jeff Yates (Bridget); great-grandchildren: Colin, Jaydon, Jazzlyn, Jaxson, Christian, Keelie, Emily, and Austin; 2 sisters-in-law: Gale Birkes of Texas and Wilma Yates of Fairfield; and numerous nieces and nephews.
She was preceded in death by her parents; husband: Ivan Yates; a daughter: Marsha Renee Yates; 4 brothers; and 4 sisters.
A special thank you to the staff at Lavender Ridge in Effingham for the loving care given over the past 4 years and to the staff at St. Anthony's Hospital for making her last days peaceful.
A visitation will be held from 1:30-2:30 p.m. on Tuesday, May 17, 2022, at Frank & Bright Funeral Home in Flora. A graveside ceremony will follow in Elmwood Cemetery. In lieu of flowers the family suggests that you call, visit, or hug your loved ones, life it too short. To share a memory or condolence, visit: www.frankandbright.com