Frank & Bright Funeral Home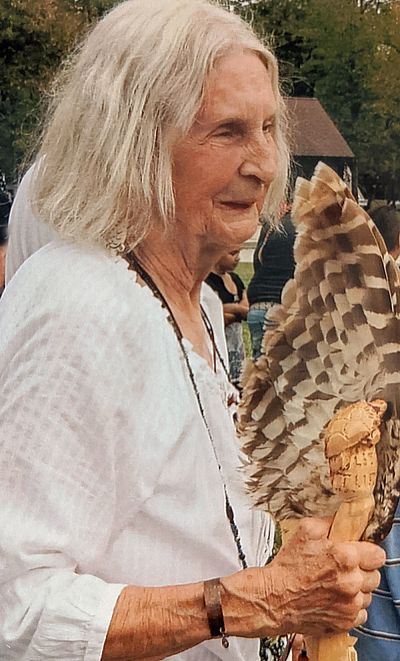 Sally Stadge
Sep 18th, 1934 - Jun 22nd, 2021
Sally Jo Stadge (Little Turtle Woman) of Olney, Illinois passed away peacefully on June 22, 2021 surrounded by her family. She was the mother of seven children and a housewife for many years. After her children were grown, she held many jobs in the Olney area including working at Hallmark, the Country Club, Rural King, and The Garage Sale. She enjoyed visits from her children, grandchildren, and great grandchildren.
It was in her 50's that she became interested in her Native American (Cherokee) heritage. Sally attended many Native American gatherings in Illinois, Indiana, Kentucky, and Ohio. She was also able to walk the Lakota path. She attended the Sundance ceremony at the Hoosier National Forest seven years in a row.
Sally is survived by her brother Eli Warren of Sedro-Woolley, WA; two daughters Kelly (David) Swinson and Tracy Stadge, both of Olney; son Tony (Jenny) Stadge of Wakefield; grandchildren Rachael (Jim) Moore, Jessie (Kyle) Klingler, JoBeth (Aaron) McDonald, Kyle Stadge (Sarah Winston), Amber Stadge (Jeff Still), and Makenna Stadge; great grandchildren Navin, Jacquelyn, Sloan, Violet, Forrest, Emma, and Holdyn. Little Turtle Woman also leaves behind many hunka children that she lovingly adopted along her native path.
She is preceded in death by her parents Bernice (Hepsy) Warren and Walter (Funny) Warren; sister Dixie West; sons Guy, Todd, and infant Patrick Stadge; and daughter Carla Stadge. Miss Kwadence E Kway walks with grandfather now. May her journey be peaceful and filled with the brightness she showed so many. Aho Little Turtle Woman!
A celebration of life will be held at the lake house on July 18, 2021 from anytime between 10-2. Arrangements are in the care of Frank & Bright Funeral Home in Flora. To share a memory or condolence visit: www.frankandbright.com