Frank & Bright Funeral Home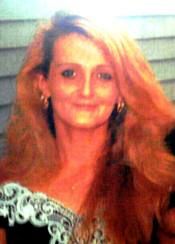 Tracy Hunt
Jul 3rd, 1963 - Feb 12th, 2013
Tracy Denise Hunt, age 49, of Clay City, IL went home to be with her Lord on Tuesday, February 12, 2013.
She was born on July 3, 1963 in Flora, IL to James B. Jones and Marilyn J. (Pruitt) Jones. She was married to Don Hunt. She later married Carl Harris of Montague, MI.
Tracy was loving and lighthearted with a dry wit and a good sense of humor. She enjoyed drawing and painting, and loved animals and especially cared for dogs. Tracy was a believer. She joined the Christian Church at 13 and loved Jesus. Tracy was a loving daughter, mother, grandmother and aunt, and her heart was especially fond for her grandchildren.
She is survived by her mother: Marilyn Jones of Clay City; father: James Jones of Flora; children: Teah Hunt , Donald Duane Hunt, Jr., and Tarra Hunt all of Westland, MI, and Morgan Ruthanne Harris of Clay City; sisters: Terri Morgan of Walled Lake, MI, Tammie Vessechia of Henderson, KY; brother: Jerry Camden of Clay City; 2 half-sisters: Vicky Storm of Mason, Sue Jones of Iola; 2 half-brothers: David Jones of Effingham, Jeff Jones of Lawrenceville; 3 grandchildren: Mya Marie Hunt, Thomas Michael Costello III, and Donald Duane Hunt III all of Westland, MI; along with many nieces, nephews, aunts and uncles as well. She was preceded in death by her grandparents and an infant brother (James Joey Jones).
The funeral service for Tracy Hunt will be held at 4 p.m. on Friday, February 15, 2013 at the Frank & Bright Funeral Home in Flora with Pastor Brad Harris officiating. Visitation will be held from 2-4 p.m. on Friday at the funeral home.