Frank & Bright Funeral Home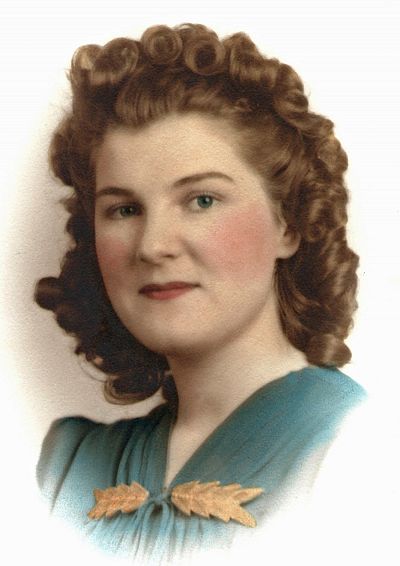 Doris Berg
May 8th, 1921 - Dec 18th, 2020
Doris Virginia Berg, age 99, passed away early Friday morning, December 18, 2020, at Country Health Nursing Home in Gifford, Illinois. During her life, Doris lived in Minnesota, California, Illinois, and Arizona.
Doris was born May 8, 1921, in St. Paul, Minnesota, the daughter of John and Florence (Bruce) Robertson. She was one of seven children and fondly remembered that her home was full of laughter and music as her mother played the piano and the family would sing together. During the years of the Great Depression, her parent's home became a refuge for many aunts and cousins who added to her rich memories and lifelong appreciation for the importance of family. From a very young age, Doris developed a love of travel. At a time when most young girls stayed close to home, Doris traveled often by train into western Canada, to Oregon and California. Her earliest trips were with her parents as her father worked for the Great Northern Railroad and had unlimited passes to travel by rail. By the age of 13, Doris was encouraged by her parents to travel with a younger brother or a friend. Her trips to San Francisco, Portland, Los Angeles and other cities created memories and stories often told to her family over the years.
In 1939 after graduating from Harding High School in St. Paul, Doris was employed by AT&T as a long distance operator. One of her positions involved monitoring overseas calls during World War II. Often, she would recall, the tearful conversations involving combat deaths and injuries during the war. After working at switchboards for many years and sometimes supervising a roomful of operators, Doris was amazed by the ease of communications in recent decades. At 98 years of age, she started using a cellphone and thought it was magic.
Within Doris's family the contribution to the war effort was always a sense of pride. Her five brothers served in the U.S. Armed Forces while Doris contributed by always being on hand to support the family. One of her most poignant memories was a trip to San Francisco in 1944 with her lifelong friend Helen Hammerstein to spend a weekend with her brother, Kenneth, before he left to serve in the Pacific theater with the U.S. Navy. Kenneth died in a mid-air collision at the conclusion of WW II. Throughout the years, Doris continued to instill patriotism in her family, never missing a chance to attend a patriotic parade or give a history lesson about how service to one's country was a privilege. Her second son served in Vietnam and a grandson in Afghanistan.
In 1946, Doris had a chance meeting in St. Paul with a classmate from Harding High School, Earl Berg. Earl had just returned from Germany after serving in Patton's Third Army. Their courtship led to marriage on February 15, 1947 and the purchase of small house near Phalen Lake in Saint Paul. Prior to marriage, Doris and Earl made a pact that they would always travel and take the time to visit family members. As a young married couple, they spent many peaceful summer evenings in their canoe on the nearby chain of lakes as they planned their future.
True to their vow, Doris and Earl found time to travel every year of their marriage. Even as their five children were born, they would plan a travel adventure for the family each summer. They saved for months to take long camping trips to California or into Canada making sure that their children experienced a love of travel. As their legacy, Doris and Earl left their sons and daughters vivid memories of the trips to national parks, to Disneyland, to Earl's family homestead in North Dakota, to fishing lakes in Northern Alberta and countless other destinations.
As a natural storyteller, Doris loved recounting camping trips with her family and trips with other family members in Europe. In recent years, Doris loved learning about the journeys of her children, grandchildren, and great grandchildren. She marveled that her offspring had traveled to every continent and nearly 100 countries. Her legacy of adventure and enthusiasm for travel lives on with her children and their families.
In addition to travel, Doris shared many rich experiences through reading. For most of her life, she was an avid reader sometimes finishing a long book in a day. Often, she loved to talk about the books she was reading, always ready to describe an enthralling biography or a good work of fiction. In recent years with her eyesight failing, Doris spent many hours each day listening to audio books. With an ever-active mind, she was always interested in discussing her quest for learning. At the same time, she marveled at the many educational achievements of her extended family. She also believed that her constant correction of children's grammar was not done in vain; it was her mission.
In addition to books, Doris loved to discuss current events. She spent many hours listening to news programs and political analysis. Doris viewed herself as a lucky citizen of a great country. She urged everyone she encountered to pay attention to political issues and to vote in every election.
During her long life, Doris faced many health adversities and mourned the loss of her parents, her husband, her sister, all five of her brothers and a granddaughter. Nevertheless, she had an enduring faith that she lived a good life and received many blessings from her faith in God. She was cheerful every day and urged all those in her life to see goodness in what they had been given.
Doris raised her family in a Missionary Baptist Church. She had a beautiful voice loved to sing hymns during Sunday services. She often hosted visiting missionaries in her home. Her faith guided her throughout her life. She generously supported her church and many families.
She is survived by her children: Stephen (Beverly) Berg-Hansen of Prescott, Arizona, Jeffrey (Kathleen) Berg of San Antonio, Texas, Julie (David) Ehler of Urbana, Illinois, Janet (Claude) Nattier of Pekin, Illinois and Joyce BergHansen of Phoenix, Arizona; grandchildren: Michael Berg-Hansen, Jason BergHansen Donahue, Christian Berg-Hansen, Jennifer Berg, Aaron (Jessica) Ehler, Bryce (Natasha) Nattier, Aimee (Scott) Ballenger, Derek (Katie) Nattier, and Elise (Jordan) Bunn; and 20 great-grandchildren.
She was preceded in death by her parents; husband: Earl Harold Berg; a granddaughter: Amber Ehler; five brothers: Lester Robertson, Jack Robertson, Donald Robertson, Kenneth Robertson, and Paul Robertson; and one sister: Alice (Robertson) Dolansky.
Interment is to be planned at a later date in Wood National Cemetery, located near Milwaukee, Wisconsin. Frank & Bright Funeral Home in Flora assisted the family with arrangements.
In lieu, flowers contributions to The Association of Baptists for World Evangelism (ABWE) would be appreciated. The link for contributions is: https://www.abwe.org/work/missionaries-and-projects?=0135751 All donations will be applied to the mission of Bryce and Natasha Nattier. To share a memory or condolence visit: www.frankandbright.com